Product Description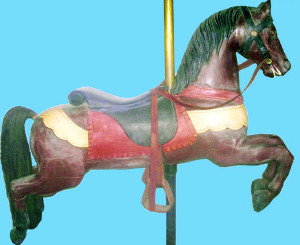 US Merry-Go-Round Co. "Red" jumper 
(partner Green jumper has sold)
Rare circa late 1800s figure. Excellent condition. Good enough to ride.
Large and full natural horsehair tails, and leather bridle/seatbelt straps.
Mounted on a matching brass and steel pole with a quad-leg, X-shaped base.
This horse and three others offered on this site were purchased by Tom Maupin's (Maupintour's) in 1981-'82. The figures were most likely stored somewhere for a long time prior to then to have escaped repainting/restoration.
The Maupintour Carousel Horses Collection
Maupintour is a worldwide, luxury tour company founded in the 1950's in Lawrence, Kansas by tourism pioneer Tom Maupin and his partner Neil Mecaskey. By the 1980s, they had grown the company into a multi-million dollar operation with hundreds of thousands of clients. Maupin & Mecaskey filled the company office in Lawrence with art and collectibles, including these antique wooden carousel horses.