Product Description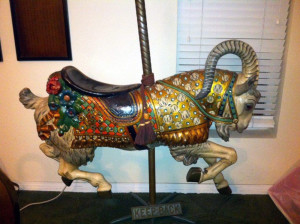 Ca. 1910-1912 Looff Ram
From the Redondo Beach Looff Carousel at the Looff Hippodrome.
Arthur Looff placed the carousel into storage in the early 1940s when he lost his lease in Redondo. The machine remained in storage until the 1960s when J.O. "Bud" Davis purchased the machine and the remains of the Looff Shop in Long Beach, CA.
The ram is in very early paint showing just one second coat which would have come directly from the Looff shop.