Product Description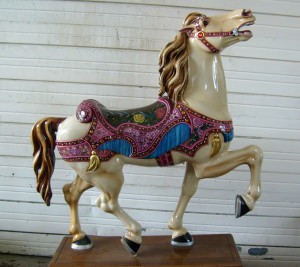 Ca. 1914 PTC #31 Chariot Horse Stander - SOLD
Older restoration. Rare 3/4 leg up position.
From the estate of Bud Hurlbut, who created and owned the rides and attractions at Knott's Berry Farm and later opened Castle Park. He sold the original horses of PTC #31 individually at auction in 1990 by Norton auctioneers]. Bud liked this little stander so much, he kept this piece for himself, displayed in his drafting room/office.