Product Description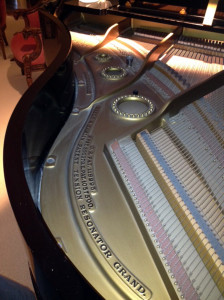 Mason & Hamlin Reproducing Grand Piano – SOLD
Restored to perfection by one of the finest restorers in the world, Bill Singleton, for the former owner, David Junchen, who wrote many articles about roll arranging. His chapter about roll arranging in the book "Encyclopedia of Automatic Musical Instruments" set a standard at the time. He also wrote the book series The American Theater Organ. Junchen was a genius in the automatic music world. Of any piano he could own, he wanted this one. He always said, for size and quality – this piano out performed them all.
Just imagine if this piano could talk the stories it could tell.
PIANO HISTORY:
From the Estate of Burton Burton
This special piano comes from the estate of Burton Burton of Casablanca Fan Company. Among his many business ventures, Burton bought Dave Junchen's organ company, Junchen Collins Organ Corporation. At the time, Junchen Collins was the largest restoration company for theater organs in the world. And, Burton had one of the first, and finest, personal collections of automatic musical instruments in the country at the time. The piano was included in the sale. Burton actually bought the company just so he could have a personal restoration staff for his collection. At the time unheard of, this was unheard of. Today, every large collection has its own restoration staff.
Burton's instrument collection/museum was housed in Baranger Studios' motion display company factory building in South Pasadena, CA. Baranger was known world wide for their animated jewelry store displays. This piano was in the automatic music museum that also displayed working Baranger Motions along with a huge turn of the century slot machine collection. Burton liked this piano so much that he moved it into his home. He replaced the piano in the museum with a straight strung, 7-foot, Knabe concert grand in a Rosewood Art Rocco case. The Knabe was a big, impressive looking piano, but didn't sound nearly as good as this piano.