Product Description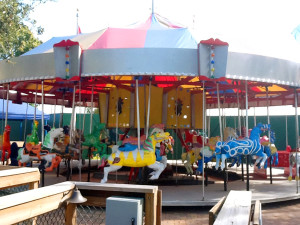 Classic* 1950s Allan Herschell 3-Row • Fully Refurbished - SOLD
*This classic 1950s is historic just like the big wood ones. This carousel will get your location included in the National Carousel Association Census of Classic and Historic carousels.
Recent restoration of horses, trim gears, bearings and drive. You can keep the horses as is for a fun Star Trek-like theme, or they can easily be painted as more traditional horses. Work includes:
Horses sand blasted and fresh paint and clear coat all horses are in excellent condition.
Top is in very good condition, with side wall for weather protection.
Walnut platforms. Metal sweeps.
All greaseless telescopes and greaseless top bearings.
Outside scenery is new aluminum sheeting, ready for paint and/or graphics.
This ride has been a park operated ride. It has a new frequency drive, new gears in gear box.
Ride is currently Florida inspected and in great running condition.
Call or write for details.