Product Description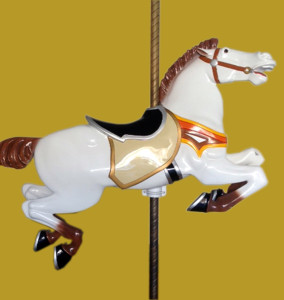 1911-12 PTC #21 Magic Mountain – SOLD
Roached Mane Inside Row Jumper
Sadly, it turns out that fiberglass encases the rotted wood of the original horse. Maybe that answers where many horses went. Sealed in fiberglass to protect, until moisture gets in rots it out.
This horse was gifted off the machine with others. Possibly the wood encased horses were no longer ride stable, being replaced with solid fiberglass replicas. Instead of being completely discarded, the original horses were given as gifts and such.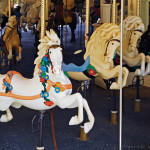 The 4-Row PTC #21 originally operated in Savin Rock, CT. Moving through the state to Walnut Beach in Milford, then Capital Park in Hartford. After extensive flood damage in 1936, the carousel was resurrected and operated in Savin Rock, West Haven again from 1939 -1967 when it shipped to California. In 1971, the carousel opened at Magic Mountain in Valencia. The carousel still operates there, but most, if not all figures have since been replaced with fiberglass replicas. This jumper was gifted at Magic Mountain with others in the 1980s. It appears to be wearing fresh, but heavy park paint with some chips showing sublayers. Further investigation shows the horse is now rotted original wood encased in overlay fiberglass.