Product Description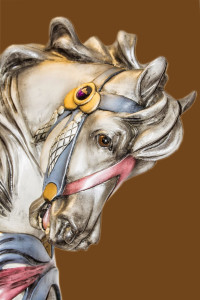 Beautiful Tucked Head Outside Row Stander – SOLD

This horse is from the the 1922 PTC #59, 3-row, all horse carousel that last operated at Petticoat Junction, Panama City, FL.
PTC #59 Jumper also available from the same owner.
"PTC #59, was the company's showpiece at the 1922 National Association of Amusement Parks' convention in Chicago. It first operated at Schuylkill Park, Pottsville, PA, from 1922-1927. Its second location was White City Park Worcester, MA from 1928-1948, after which it operated at Wedgwood Park Oklahoma City, OK, from 1949-1968. It then went to Petticoat Junction Panama City, FL, from 1969-1985. The original figures on PTC #59 were auctioned off when the carousel was sold by the park in Florida in 1985. Only the frame and carousel mechanism remained*…"
Courtesy of PTC Carousels: The History of Philadelphia TobogganCompany Carousels, By Richard Gardner. The Connecticut Press, 2012.
*The PTC #59 frame was installed at Peddlers Village, Lahaska, PA, in July 1998 with new carvings by Ed Roth.