Product Description
*The Historic Jantzen Beach
1921 C. W. Parker Superior Carousel
The rare "Superior" style C. W. Parker carousel, that became known as the Jantzen Beach Carousel, originally operated on Venice Beach, CA, out of the Leavenworth, KS, factory in 1921. In 1928, the carousel would find its way to Portland, OR, and Jantzen Beach Amusement Park. In 1973, the carousel was moved to the Jantzen Beach Center shopping mall. The rare historic carousel has been in storage since the mall was demolished in 2012.
This horse is an extremely rare outside row armored Parker jumper with a carving on his forehead called a ripping horn. The Jantzen Beach 4-row Parker is known for having many one-of-a-kind horses. This would be one of them.
This special horse was carved with the other 72 Jantzen Beach carousel horses by the C. W. Parker carousel manufacturing company in Leavenworth, KS in 1921. They would populate one of just four known 4-Row Superior Parker Carousels known of. After its short run on Venice Beach, the carousel eventually went to the Hayden Island Corporation and its Jantzen Beach Amusement Park in Portland, Oregon.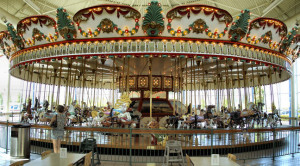 Retiring, long-time executives from the Hayden Island Corp. were allowed to choose a horse as a parting gift. (The horses were replaced by Parker horses from a smaller machine). See the story in the Carousel News and Trader, April, 1999, (page 52) titled "The Ones That Got Away".
The rare carousel horse was purchased by Keith & Pat Jamieson from Al Taylor on Sept 30, 1997.
The horse has undergone a museum quality restoration by Keith Jamieson in 1998. Keith is the President of Brass Ring Ventures, Ltd. and was the Project Manager for the complete restoration of the Burnaby Village Museum's 1912 C. W. Parker. As well, Brass Ring Ventures, under Keith`s direction, completed the restoration of the C. W. Parker at Jantzen Beach Super Center in 1995.
More on the Jantzen Beach C. W. Parker Superior Carousel here >>