Product Description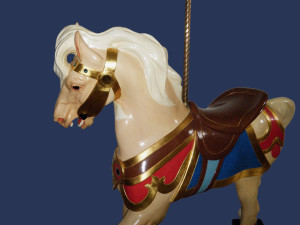 Ca. 1919 PTC #49 Stander
From Clementon Lake Park, NJ.
"Peek-A-Boo" forelock and long flowing mane with ceremonious trappings highlight this regal outside row carousel horse. This figure is completely restored, but much of this horses beauty is veiled beneath a dated paint job. Has original PTC brass medallion on the side of the head inscribed, "No. 49″.
Includes brass pole and stand.