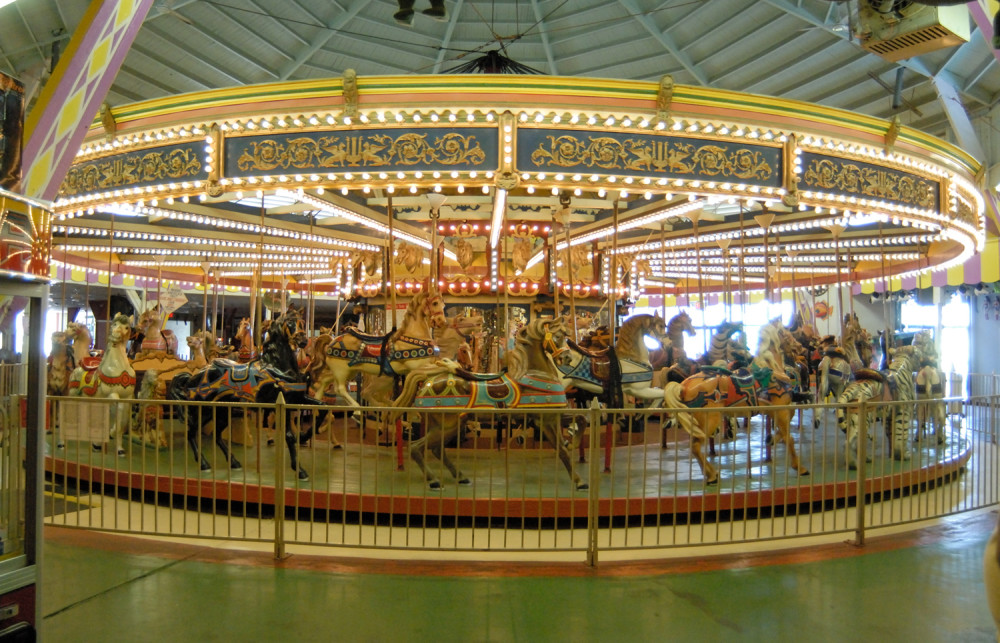 GREAT NEWS UPDATE!
It looks like the carousel will be saved intact, and sounds like a brilliant but simple solution. The real estate developers get some more real estate, and Seaside Heights gets their carousel and a place to put it. And, in a new home, it will be like a new attraction for the community as folks will come from far off to visit what we all almost lost. Below is the first brief press release to announce the plan that will, in fact - SAVE THE CAROUSEL.
Mayor & Council Approve Plan to Acquire Historic Floyd Moreland Carousel in Land Exchange Deal
Sept. 3, 2014
SEASIDE HEIGHTS, NJ – Mayor William Akers and the Seaside Heights Borough Council tonight introduced a plan to acquire the historic Dr. Floyd L. Moreland Dentzel-Looff Carousel from the owners of Casino Pier. Borough Council introduced Ordinance No. 2014-17 that would approve the exchange of municipally owned beach property north and south of Casino Pier for vacant property located on the oceanfront between Carteret and Sampson Avenues. Title to the historic carousel will transfer to the Borough of Seaside Heights so that its presence in the town will be ensured perpetually.  Casino Pier plans a major expansion with the property being acquired from the town. More details will follow in the coming weeks.
Story link from Seaside Heights…

__________________________________________________________________________________________________________________
PRIOR STORY FROM JULY 17, 2014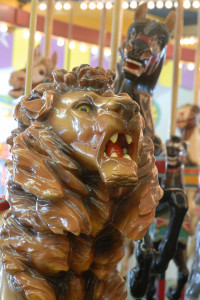 Historic 1910 Casino Pier Carousel in Seaside Heights, NJ, Faces Extinction by Auction Very Soon Unless A Group can be Formed to "Save the Historic Seaside Heights Carousel"
By Roland "Rock" Hopkins
AntiqueCarousels.com; Carousel News & Trader editor, 2006-2013
SEASIDE HEIGHTS, NJ – The Circa 1900-1910 Dentzel-Looff-Mangels mix menagerie carousel has been quietly for sale for a few years now, and openly for sale for the last couple of years. But no one did anything. Floyd already did it once – you can't expect him to do it again. It has also needed major repairs for a number of years now, from the pole out, but nothing has been done about it.
Like it or not, the folks who own the pier are in the real estate business, not the entertainment business, nor the historic preservation business. It has been no secret for a few years now that the precious historic carousel is only seen as a burden to them and a responsibility they would like to be free of. And they certainly have every right to feel that way. They are businessmen who choose not to be in the historic carousel business. Too bad. When done right, there is a nice little profit to be had. But, this is nothing new in the carousel world. Most recently the rare C.W. Parker Superior, the "Jantzen Beach" carousel went into a storage box. The real estate developers gave it a good run, but for years it was known to be in peril of a retail redevelopment which may NOT include it. But, no one did anything.
It seems to me carousels are best saved before they get stashed in a box, and many cities and towns have accomplished that and saved their historic rides intact.
In a perfect world, a non-profit Friends Group would have been formed in Portland long before the retail redevelopment that everyone knew about for at least half a decade before it broke ground. In a perfect world, that Friends Group would have seen early on there was not "carousel" in the redevelopment, and they would have been poised to step in, with private and government funding, to relieve the developers of the carousel before they removed it from the failing mall and boxed it. But there was no group formed, poised and ready, and who knows what it will take to get that one out of its box now.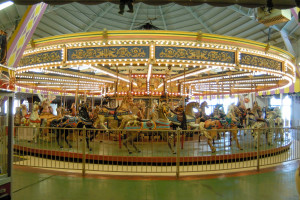 The Casino Pier, Seaside Heights carousel faces a worse peril than a dreaded box. A whole bunch of boxes… and the last boxes the carousel will ever see as the animals part ways forever – something that has not struck down a carousel of this caliber since Whalom Park in 2000.
In order to save this carousel, it will take a lot more than photos and fond memories. It will take a well organized – and quickly organized – non-profit Friends Group – set up in record time. Before the Casino Pier Carousel can find serious benefactors and backers, there needs to be a place to donate and responsible people to gather and handle it. It all seems pretty obvious, but beyond the Facebook page and petition, I haven't heard anyone spearheading a non-profit Friends Group.
Hopefully there will be some local business people and/or politicians even, who will step up and get a proper "Save the Carousel" group very soon – like yesterday. Then quickly use their business clout to raise some money. Maybe not as much as wanted or needed even — but ask the folks in St. Paul, and Cleveland and Nantasket — if you form it, maybe they will come.
I believe each of those cities formed their groups (very quickly – facing auction) and raised some money, but not quite enough. But, because there was a group, there was a place for a benefactor to step up and put them over the top – that could happen. And in each case, it did. But without a serious group formed, at least part of the way to saving the carousel – there would be no where or way for anyone to step up and help – no where for a benefactor to put his or her money. And there might be a carousel as well as a building that needs a new name, as most likely in this case, like most, the carousel will need a new home as well.
Everyone hopes it will happen – but someone is going to have to start it and get it going very quickly if it is going happen. "The Group to Save Seaside's Historic Carousel."
Visit Save the Carousel on Facebook
Here are excepts from the recent release from Guernsey's announcing the forthcoming auction –
"For 82 years, a magnificent 1910 Dentzel [Looff] Carousel has delighted parents and children alike at the Casino Beach Pier in Seaside Heights, New Jersey. The carousel has survived the devastation of both Hurricane Sandy and subsequent fire one year later that ravaged much of New Jersey's shoreline and the beloved boardwalk…
If the carousel cannot find a buyer interested in preserving it intact, then the carousel will be auctioned figure by figure by Guernsey's this fall. It is the desire of the owners, as well as Guernsey's, for the carousel to be sold as a whole and remain intact, forever preserving this historic landmark for future generations."
Save The Carousel on Facebook
A Save The Carousel Facebook Page has been made, along with a petition to the developers, but I think it is going to take more than that. And it won't be A buyer — no single white knight or Superman will fly in — but a Group of Friends of the carousel maybe could save the day. It may take a superhero (super dedicated and determined more like it) or two to start it up, but once set up, the Friends Group might find there are a couple of other superheros out there to help give them a boost. But first, there has to be something to boost. Let's hope some local folks with some clout get organized quickly and get it done.
If a walk down memory lane is needed for inspiration, the following article ran as the cover feature of The Carousel News & Trader in Sept. 2007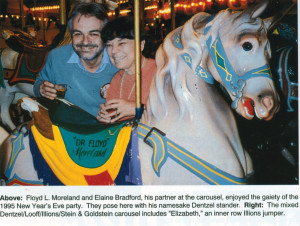 SEASIDE HEIGHTS AND CAROUSEL HISTORY
By Dr. Floyd L. Moreland
In the early part of the 20th century, on a section of a New Jersey barrier peninsula four blocks wide between the Atlantic Ocean and Barnegat Bay, a steam-driven Gustav Dentzel carousel was installed in a building perched precariously on pilings just several hundred feet from the waves of the ocean. (See the photo in my entry on Casino Pier in the Photo Show Project on the website of the National Carousel Association: www.carousel.org). This carousel was replaced several years later (1917) by an impressive Dentzel/Muller electric carousel (known as "Freeman's Carousel"), and other attractions were added: a dance hall, a bathing pavilion, a miniature golf course, a small fishing pier and a modest boardwalk. At a time when property on a sandy barrier island was virtually useless (it couldn't be farmed or mined or turned to profit in any obvious way), a few visionary business people looked to a future of recreation and leisure development. Soon a wooden bridge connected the barrier island with the mainland. A railroad bridge was built across Barnegat Bay and brought riders from Philadelphia. A real estate company eager to attract potential customers to the barrier island to buy and develop vacation property frequently subsidized fares on the trains.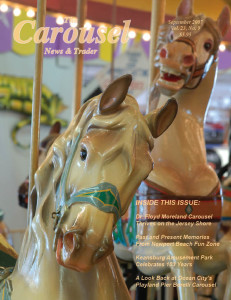 In the late 1920s and early 1930s, another investor, who owned a fishery nearby, wanted to compete with the recreational mecca that had grown into Freeman's Amusement Center. He found a carousel that had been partially damaged in a fire at New Jersey's Burlington Island Park. After having its damaged animals replaced, he had the carousel refitted for its new location in Seaside Heights. It opened in 1932 (in the original cupola enclosure that came with it from Burlington Island Park), just seven blocks north of the more established Freeman's carousel and not even connected to the larger amusement complex by a boardwalk.
The carousel struggled its first year or two. Five years later, it was decided that a large exhibition hall would be built around the carousel. The plan included an Olympic-size salt-water pool west of it and a fishing pier with several other amusements on its oceanward side.
As the years and decades went by, this evolved into what is now known as Casino Pier and Breakwater Beach a large amusement pier to the east of the carousel, a climate-controlled arcade and eatery in the carousel building itself, and a major waterpark to its west. A wide boardwalk, populated with games of chance, arcades, food establishments, and an array of other amusements, runs the entire length of the one-mile long oceanfront.
There was a time in the early 20th century when carousels dotted the Jersey shoreline: Long Branch, Bradley Beach, Belmar, Asbury Park, Sea Isle City, Ocean City, Atlantic City, Wildwood, to name just a few. Most were part of efforts to encourage interest in destinations and properties that otherwise were of little use.
The role of the carousel in Seaside Heights was especially unique, and there was a time when even a third carousel (a PTC, called the "Strand Carousel"), graced its boardwalk. For more than half a century, a carousel horse was featured as one of four images on the borough's official insignia on flags and police cars and the celebration of the borough's 75th anniversary played on the carousel theme and produced limited edition replicas of its two (then) surviving antique carousels. Not only was "the carousel" a symbol of a major amusement industry that defined the town's oceanfront boardwalk and piers, but also "the carouse" was recognized as the soul that gave shape to the development of a mile long stretch of barren sand long ago in New Jersey history.
Seaside's Freeman's Carousel burned to the ground in 1956 and was replaced by an Ilions carousel (previously the "Chafatino Carousel" in Coney Island, NY). It lasted for several decades, until it was broken up and sold at auction. A Chance fiberglass carousel now turns at the location of the original merry-go-round that had stood all by itself on pilings close to the ocean nearly a hundred years ago.
The carousel at Casino Pier continues to turn and will soon celebrate its 100th birthday. It is still the soul of the large amusement area that now surrounds it, in the very spot where it had had been installed after its arrival on this island as a single attraction struggling to attract riders.
Only two American crafted classic carousels remain in the State of New Jersey, the Dr. Floyd L. Moreland Carousel at Casino Pier in Seaside Heights and the PTC carousel at Gillian's Wonderland Pier in Ocean City. The Casino carousel still has its Wurlitzer 146-style band organ, lovingly restored and cared for by Chambersburg, PA, dentist Dr. William Black (with the assistance of Bob Ryesky, Durward Center, and the late Mike Kitner).
Although a professor of classics and a dean at the City University of New York, I personally oversaw the restoration (and operation) of the carousel itself for more than three decades. I was assisted by Dr. Norma Menghetti, a Pennsylvania veterinarian, and countless others who shared the feeling of affection for this carousel. Eighteen animals were restored thanks to resources made available by private sponsors. Much of our efforts at preservation, which were made all the more challenging when working on a privately-owned machine (as opposed to a carousel owned by a city or state or public entity), have been documented in a wealth of articles, television interviews and so on. Some of these references appear in the bibliography at the end of this article.
The carousel genre played a significant role in the evolution of waterfront development in this coastal town, and indeed, in the United States, the scope of which, ironically, has also led over time to the demise of carousels and pleasure destinations at the water's edge. Condominiums and more contemporary high-scale shopping centers and eateries have pushed out the simple, old amusements, including the hand-carved artistry of the carousel makers of old, as our world moves in the direction of an ever-evolving definition of progress. (Oceanfront boardwalks, after all, might well be viewed as early versions of contemporary shopping malls.)
Those of us old enough to have experienced the magic of visiting and riding these awesome machines are blessed to carry with us memories of an early part of history. Some of us are still fortunate enough to have an old-fashioned waterfront carousel nearby, giving us access to a glimpse of history and a perspective on how our ancestors viewed a far simpler and different world.
If you visit Casino Pier, or other carousels in similar locations of place and time, use your imagination to think away all the modern 'noise' and try to envision the carousel as it was all by itself, a precursor to all that followed. Dream a little and try to see the world in your mind's eye as it was viewed by generations who came before you. While there is still time, be sure to cherish those carousels that survive — ride them, study them, respect them as part of our history, and preserve them as a tribute to our collective culture.
The Carousel at Casino Pier, approximately [114] years old, is here and turning. Thanks to Dr. Bill Black, the Wurlitzer 146 organ is playing loud and clear. The carousel is open weekends and holidays all year, even when the snow is falling! Casino Pier has loads of other thrill rides, as it also has a world-class water park (Breakwater Beach). As for the carousel, it doesn't have the long lines it used to when I was a child in the 1940s and 1950s. (Sometimes we had to wait for several rides to go by after purchasing our tickets before we could find an empty horse.) The other thrill rides get most of the attention these days, but, as with so many waterfront parks on both coasts and throughout the country, the carousel really did build this amusement mecca and continues to be its heart and soul.
As I wrote at the beginning of this article, in the early 1900s it was a challenge to come up with a scheme to build on oceanfront property and attract people to come there. Now, in a far different world, property values have skyrocketed and the shorelines are dotted with condominiums and upscale developments. The old seaside amusement parks, with their carousels, are fast disappearing from the American landscape.
Some references you might wish to consult.
This selective bibliography contains more detailed accounts of the efforts at preserving and renovating and watching over the Floyd L. Moreland Carousel over the years. It also contains a wealth of historical information about the history of waterfront (as well as other) amusement locations and the "behind the scenes" activities that keep carousels and their band organs alive and well.
Futrell, Jim, Amusement Parks of New Jersey (Stackpole Books, Mechanicsburg, PA, 2004), 96-111; 141-148. This book contains an important comprehensive history of Casino Pier (as well as Funtown Pier, which grew out of the ashes of the Freeman Carousel fire in 1955).
Menghetti, Norma B, An Update on the Endeavor to Enhance the Dentzel-Looff Carousel at Casino Pier in Seaside Heights, NJ (Merry-Go-Roundup 13.3, Fall 1986, 14-16). This article extends the more detailed account in an earlier issue of Merry-Go-Roundup (referred to below) of our involvement in saving this privately owned carousel from the auction block beginning in 1984. (See also Merry-Go-Roundup 13.4, Winter 1986, p. 6 for the renaming of the carousel)
Moreland, Floyd L., Reflections on the Dentzel/Looff Carousel at Casino Pier in Seaside Heights, New Jersey: A Perspective in Continuity (Merry-Go-Roundup 12.2, Summer 1985, 4-9). This piece lays the groundwork for saving the Casino carousel and for the decades of fun that followed.
Moreland, Floyd L. and Black, William E, The Restoration of the 146 Wurlitzer Organ at Casino Pier: A Story of Friendship, in the "Wurlitzer 146 Restoration" link on www.carousels.com (2001). The photos are great, but click on the link to the original article before going through the photographic documentation.
Moreland, Floyd L., The Carousels of Seaside Heights, NJ (Carousel News and Trader 10.4 , April 1994, 43-47). Some of the old aerial photos in that article give a good impression of the physical characteristics of these early oceanfront carousels.
Papa, Carrie, The Carousel Keepers: An Oral History of American Carousels (McDonald & Woodward Publishing Co, Blacksburg, VA 1998), 44-47, 73-75,127-131, and throughout. This oral history is a veritable window into the behind-the-scenes world of the American carousel. (A shortened version centered on Seaside's carousel appears in Merry-Go-Roundup, 17.1, 1990, 9-11)
Salvini, Emil R., Boardwalk Memories: Tales of the Jersey Shore (Globe Pequot Press, 2006), (87-98) and throughout. The bibliography contains access to a wealth of historical information.
Wortman, C. Byron, The First Fifty: A Biographical History of Seaside Heights, NJ (Seaside Heights, 1963). This hard-to find volume was written in celebration of the 50th anniversary of the incorporation of the Borough of Seaside Heights. It contains important insights into the development of the borough and its amusement industry. Based on documents as well as oral sources, it is an irreplaceable chronicle of the flow of history in the early years of the Borough of Seaside Heights.
– Seaside Carousel History article by Floyd L. Moreland, reprinted from The Carousel News & Trader, September, 2007.