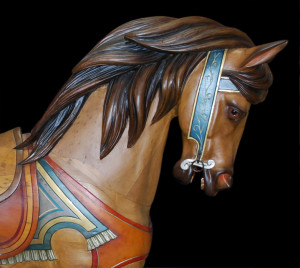 This beautiful horse, used for our logo, came from PTC #9
WANTED – PTC #9 or Conneaut Lake carousel horse.
(Or another horse showing roots to Conneaut Lake, Euclid Beach or Cedar Point).
Mid-range budget. 
Below are some other figures customers have asked about:
Rock Springs Muller Jumper
Heyn Donkey
Ayers Rocking Horse
Early 1900s-1910 Illions
Herschell Spillman Frog
Circa 1910-1920 PTC inside row jumper(s)
French/Bayol or other European Hippocampus
Bayol Donkey or Cat
Flying Mane Illions
Roached Mane Dentzel (bare)
PTC #21 or other Savin Rock, CT history horse.
Simple inside jumper from Skylon Towers.
Baby Parker or similar.
An OC Buckcarved horse.
This specific Illions jumper (shown left), was lost years ago in a divorce. Shown here in amateur paint. The previous owner would like to buy the horse back if it can be located.
If you are seeking a specific figure, please let us know.